If you live anywhere near a refinery, factory, chemical plant or dump, chances are you are well aware that your water is a toxic and life-threatening substance.
But what about the rest of us, who live in the city or suburbs, far from industrial contamination? Is our drinking water clean and free of contaminants?
More than 2 million synthetic substances are known, over 25,000 are added each year, and over 30,000 are produced on a commercial scale! Only a very tiny fraction are ever tested for toxicity – and a lot of them come to us on the winds and in our water without us knowing.
Even bottled water with fancy labels and advertising, hides behind the fact that it contains highly dangerous toxic chemicals.
We are literally drinking ourselves to death!
Did you know manufacturers and drug makers in the USA legally release hundreds of millions of pounds of pharmaceuticals into rivers and streams, that are then used for our drinking water?
Consumers are big contributors to the contamination too, as millions of people flush unused drugs down the toilet.
And hospitals and long-term care facilities throw away an estimated 250 million pounds of pharmaceuticals and contaminated packaging.
Nearly 40 years ago, Congress enacted the Safe Drinking Water Act and yet today we have more contaminants in our water supply than ever!
In the summers, half the rivers and streams in America's "Corn Belt" are laced with pesticides.
Microbes in tap water may be responsible for 1 in 3 cases of gastrointestinal illness.
Chlorine (also known as bleach) is the most-widely used disinfectant by water treatment facilities. As it mixes with other substances in municipal water, it produces carcinogens and has been identified as a major contributor to breast cancer.
Chlorine is a gas at room temperature, and when heated in the shower, the chlorine turns to chloroform, a chemical once used as an anesthesia until it was replaced by less toxic substitute.
What About Bottled Water?
Whenever I travel, I never drink water that comes out of the tap. Instead I drink bottled water. But, and this is a big BUT, you need to pay attention to what you are getting, because municipal or "tap" water can be bottled and sold as "bottled" water. It doesn't have to be treated or filtered in any way.
Unfortunately the environmental impact of bottled water is horrendous. And it is expensive Nearly 3 million tons of plastic are used to bottle water each year worldwide. In America alone, this requires over 1.5 million barrels of oil – enough to fuel 100,000 cars annually. Worse yet, more than 85 percent of the plastic water bottles end up in the landfill instead of being recycled, according to the Container Recycling Institute in Washington, D.C.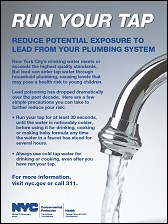 New York City Issues Water Warning for Lead
While lead-based paint continues at the #1 exposure risk for lead, just last month New York City launched a Run Your Tap campaign to advise residents in older buildings to run their tap water for 30 seconds before drinking to reduce potential exposure to lead from your plumbing system in your drinking water.
The Purest Water on the Planet – for Pennies a Day
Many years ago we established a partnership with a major water filtration manufacturing company located in the USA. Like us, they take pride in developing and manufacturing only the highest quality products available anywhere.
Since we work directly with them, we can guarantee that only the best filtration media and components are used, as well as attention to detail and craftsmanship in manufacturing that seems to be forgotten in today's hustle-bustle world.
Special Offer for Retail and Preferred Members:
If you purchase bottled water for your home or office today, get a filter instead. At just pennies a gallon for crystal clear, pure filtered water, you will save hundreds of dollars a year!

And if you are showering in chlorinated city water, think twice about this. Inhaling dangerous chlorine gas is not a good idea – plus when the water is hot, your skin absorbs chlorine like a sponge. We guarantee that once you try our Shower Mate filter, you'll never want to shower in city water again!

Save additional 10% off all Water Filtration Systems

The UV Countertop is a state of the art ultraviolet chemical and microbiological water filtration system to reduce levels of organic/inorganic chemicals, heavy metals, cysts and bacteria, even giardia, from city or well water supplies.

Useful life: 2,000 gallons or 2 years with bonus replacement cartridge/UV lamp

Click here for more details.
The Countertop water filtration system uses a 3-stage filtration process to reduce levels of organic/inorganic chemicals and heavy metals like mercury and lead, leaving great tasting, healthy water with the push of a button. Great for apartments or anyone on the move.

Useful life: 5,000 gallons or 3 years for family of 4 people.
Click here for more details.
If you've never enjoyed a shower in filtered water, you are in for a treat. The Shower Mate significantly reduces chlorine, chloroform and harmful VOCs, while enhancing pH for a cleaner, more healthier and enjoyable shower. You will notice the difference in your hair and skin immediately – it's like showering in spring water.

Useful lifespan: 20,000 gallons or 1 year for 2 people

Click here for more details.
Our "Purity" Under Counter water filtration system uses the same filtration medias found in the Countertop system to reduce chemical and heavy metal contaminants – but it has a lot more of it!

Installs with a dedicated, lead-free vented faucet that connects to the cold water line.

Useful lifespan: 10,000 gallons or 3 years for a family of 4 people.

Our JUMBO Under Counter filters are available in two sizes for removing chemicals and Fluoride and Arsenic from your water.

The Fluoride Combination Under Counter is a one-of-a-kind system that removes organic/inorganic chemicals, heavy metals AND Fluoride/Arsenic. Useful life: 15,000 gallons.
The Fluoride Under Counter is intended for homes/offices that already have a water filtration system installed, and want to remove Fluoride and Arsenic at the point of use.

Useful life: 12,000 gallons.

We offer multiple sizes of Whole House water filtration systems for residential and light commercial installation. We can even custom-size larger systems. Call for details.

All of our whole house systems use a 5-stage filtration process to remove organic/inorganic chemicals and heavy metals like mercury and lead.


Click here to for more details.
If you know anyone with young children, for their sake, don't let them drink or bathe in unfiltered water. Children are our most precious resource and we must do everything we can to protect and nurture their welfare.
As always, here's to your Contagious Health!
Wayne Garland and Team